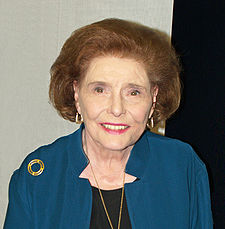 Patricia Neal at the Tribeca Film Festival in 2007
---
Patricia Neal was born Patsy Louise Neal, daughter of William Burdette "Coot" Neal and Eura Petry, on January 20, 1926 in Packard, Whitley Co., Kentucky.
Patsy Louise's father William Burdette Neal was the son of William David Neal and Mary Lou "Lucy" Fitzgerald and was born in Pittsylvania Co., Virginia in 1895 where a number of the "Beaver Pond Neals" of Amelia Co., Virginia had moved to.
William's sister Maude married Will Mahan of Williamsburg, Ky. The Mahan family owned the Southern Coal and & Coke Company and William "Coot" Neal became the transportation manager for that company in Packard and then in Knoxville, Tennessee.
When Carl B. Neal wrote the book, "The Beaver Pond Neals of Virginia" in the mid 1960s, he corresponded with Patsy Louise and she wrote him a very nice and informative letter. She described her father as being fat and as a result died at the age of 49 from a heart attack. She also described him as a joy to live with but that he did have a temper but it took a lot to rouse it.
Patsy Louise also said her father had a terrific sense of humor, loyal, hard working and infinitely reliable. He had brown eyes with fine features and was 6 feet tall. She also described her grandfather Neal as having the same easy, good nature. Patsy Louise wasn't raised around other Neals so she didn't know that, except for the physical description, she was also describing a lot of other Neals, including my father and his family.
Patsy Louise grew up in Knoxville, Tennessee and later studied drama at the Northwestern University. Her first acting job was as an understudy in the Broadway production of The Voice of the the Turtle. She won a Tony Award as Best Featured Actress in a Play for Another Part of the Forest in 1946.
In 1948, Patricia Neal made her first film in John Loves Mary and in the same year in The Fountainhead with Gary Cooper. She later co-starred with Michael Rennie in The Day the Earth Stood Still in 1951.
TO BE CONTINUED
---